Investing can be an effective way to grow your money and build the security you need to meet your financial goals. Success depends on numerous factors, from market cycles (and your strategy for riding them out) to your planned length of time in the market.
All investing involves some risk. The amount of risk you choose and the returns on your investment typically go hand in hand – with greater returns often coming alongside an increased tolerance for losses.
But, don't ignore everyday investing realities. When markets are rising, investors tend to be more comfortable with taking risks. When markets drop, these same investors can become fearful. To stay the course, it's crucial that your hunger for gains match your comfort with risk. We can help you do that.
Consider these questions
An investment profile questionnaire can help you define your appropriate level of risk. Be as honest and accurate as you can about your investing goals and philosophies, when contemplating these common questions:
What are your investment goals? What goal or result do you want to achieve from investing? Is it for your retirement, or for post-secondary tuition for your children? Are you looking for a steady stream of income or long-term growth? Understanding your investment goals helps to determine the types of investments that are best suited to your needs. Again, different investments carry different levels of risk.
What is your time horizon? Your horizon is the period of time that you plan to hold your investment. If you're saving for retirement, you generally have a longer time horizon than if you're saving for a down payment on a house. Having a longer time horizon allows you to take on more risk – and invest more aggressively – because there's more time to recover from any losses incurred from market downturns.
What is your risk capacity? Your risk capacity is how much risk you can handle, based on your personal financial situation. That includes the stability of your income, the value of your current assets, and any debt that you may hold. Your risk capacity can change over time and, when needed, can be reassessed with your financial representative. If you get a new job or a raise, for instance, you may gain greater capacity for risk. Or vice versa, if your finances are negatively impacted.
What is your risk attitude? Your risk attitude is how much risk you're comfortable with and willing to take on. It's more about your personality, tapping into the emotional side of investing. In short, high-risk, high-return investments might offer exciting opportunities, but can you tolerate the potential losses associated with that type of investment?
Taken as a whole, these answers can give you a better understanding of your personal risk tolerance, as well as your overall investing style.
Determine your risk profile
Building on your answers above, you can determine your risk profile – how conservatively or aggressively you should invest – and begin selecting appropriate investments.
What's your risk profile?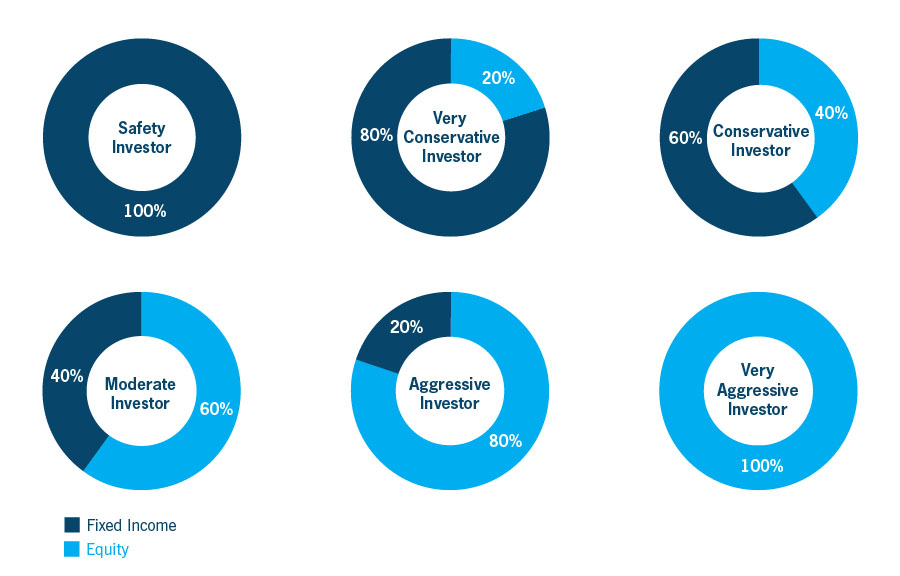 Don't forget, as life events occur, your profile can change. It's important to regularly review your profile to ensure that you remain invested in a way that leads you to your outlined goals.
Access expert financial help
Talking to one of our experienced financial representatives* can add great, life-long value. While guiding you through the common questions around risk tolerance and investing style, they can answer all of your questions along the way.
With that, you'll have the foundation for an investment plan that's truly based on your time horizon, your risk tolerance, and your personal goals. One that can instill confidence, whether markets are going up or down.
For more information on investing, and for ongoing resources and financial-market news, visit Market View.
*In the province of Quebec, the authorized representatives are Financial Security Advisors who have been duly certified by the Autorité des marchés financiers. Segregated Funds and annuities are administered by Co operators Life Insurance Company. This article is provided as a general source of information for a specific point in time and should not be considered solicitation to buy or sell any investment. Nothing contained in this article constitutes investment, legal, tax or other advice. Co-operators Life Insurance Company is committed to protecting the privacy, confidentiality, accuracy and security of the personal information that we collect, use, retain and disclose in the course of conducting our business. Please refer to our privacy policy for more information. The Co-operators® is a registered trademark of The Co-operators Group Limited..