When it comes to saving and investing, everyone's looking for the right way forward. But, with so many factors at play, only an in-depth conversation – about you and your unique financial situation – can truly point the way. Here are factors to consider when choosing the right financial-services partner for you.
Choose a company that shares your values
However you invest, and whatever you choose to invest in, it helps to have a sense of your own values and philosophies before taking the plunge. For example, is working with a financial-services company that puts people before profit important to you? Do you want a provider that has a good track record around social and environmental issues? What are your feelings around money, in general? The list goes on.
Considerations like these are extremely important, because they can point you to the right company to help you manage your investments. In short, you can choose the one that most accurately reflects your values and philosophies. And, as you know, there's no shortage of options out there!
At Co-operators – working in Canadian communities for more than 75 years – we're all about building financial, social and environmental resiliency for individuals and communities. Guided by our co-operative values, we align our business strategies with the UN's 2030 Sustainable Development Goals, we make a point of giving back to communities across the country, and we pride ourselves on offering honest and transparent financial advice. Working with us, you can expect:
Expert guidance. Our financial representatives can help you create a personalized roadmap that's based on your goals (not ours!) and that will evolve with you, as life happens.
Choice and flexibility. Instead of a one-size-fits-all solution, we provide a variety of individual funds or portfolios to match your personal values as well as your appetite and capacity for risk.
Helpful products. From the right investments to the right type of insurance coverage, we provide holistic advice and recommend products designed with you and your future in mind.
Of course, we can only speak for us. It's important to get to know any company that you entrust with your financial future.
Choose the value of financial advice
Everyone's financial situation and goals are unique. Which, by default, makes everyone's "best" way to invest unique, too. That's where professional financial advice can help. Together, by focusing solely on you and your situation, you can plan your most-effective route forward – from choosing the right investments to saving in a tax-effective way. With the right financial advice, you can:
Set good savings habits and achievable retirement goals
Choose suitable investments for your situation
Build a comprehensive, easy-to-follow financial roadmap
Regularly review (and adjust) your plan to ensure that you're on track
Protect against emotional and uninformed financial decisions
In fact, studies have shown that households who work with a financial representative for 15 or more years can accumulate nearly four times2 as much wealth as those who invest on their own.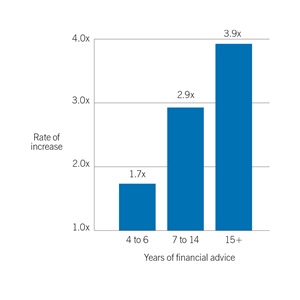 Working with a knowledgeable and experienced Co-operators financial representative means that you'll get honest, straightforward answers to your investment questions. With an in-depth and informed view of the big picture, and how your goals fit within it, they can also keep you motivated to stick with your plan. Something that is especially helpful when markets are volatile.
Choose from a full suite of solutions
At Co-operators, we offer a variety of investment accounts:
We also offer a variety of investment vehicles:
Mutual funds, to invest in a way that brings diversification and the potential for growth.
Segregated funds, designed to grow your money and protect your principal contributions.
Annuities, which use your savings to provide a guaranteed income for a specified time.
Ready to invest in your future self?
Whatever you choose, and whether it's a one-time lump sum or monthly automated contributions, starting now is better than putting it off. That puts the power of time on your side, adding up to bigger savings.
And, while we're at it, a final tip: Adopting the "pay yourself first" philosophy helps you earmark a percentage of every paycheque for yourself. (A popular rule is to save 10% of your annual salary.) And that makes your savings add up even more!
So, now that you've got the low down, where would you like to go from here?
Connect me with a Co-operators financial representative
I'd like to learn the investing basics
1 In the province of Quebec, the authorized representatives are Financial Security Advisors who have been duly certified by the Autorité des marchés financiers.
2 Source: Claude Montmarquette and Nathalie Viennot-Briot, 2016, IFIC Advisor Insights
3 Please note that all segregated funds and mutual funds purchased from financial-services providers are subject to applicable fees. The Management Expense Ratio (MER), an industry regulated and audited calculation, is a combination of the operating fee (i.e., costs associated with running the fund) and the management fee (i.e., direct expenses incurred in managing the fund). The MER covers the costs of expertise and essential functions, as well as the services provided by your financial representative, including: Completing financial-needs analysis and assessments Calculating your ideal risk tolerance Creating a financial roadmap around your specified goals Building a portfolio designed to help you achieve those goals Researching and recommending investment products that are suited to your needs Monitoring your investments and regularly rebalancing your portfolio Providing regular investment reports and portfolio reviews Mutual funds are offered through Co-operators Financial Investment Services Inc. to Canadian residents except those in Quebec and the territories. Segregated funds and annuities are administered by Co-operators Life Insurance Company. Co-operators Life Insurance Company and Co-operators Financial Investment Services Inc. are committed to protecting the privacy, confidentiality, accuracy and security of the personal information that we collect, use, retain and disclose in the course of conducting our business. Visit www.cooperators.ca/en/Privacy for more information. Co-operators® is a registered trademark of The Co-operators Group Limited.