Blain King
Financial Advisor *
Mutual Fund Investment Specialist**
Blain King Insurance & Financial Services Inc
Financial Advisor *
Spécialiste en épargne collective**
Blain King Insurance & Financial Services Inc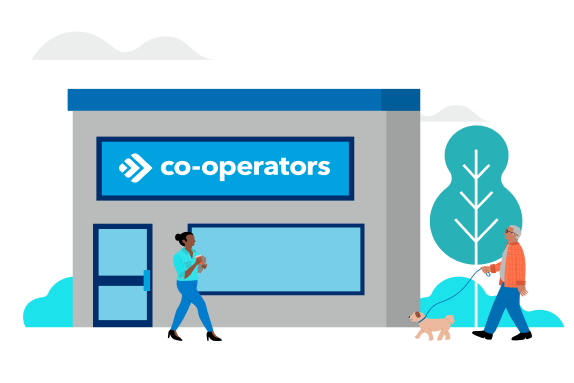 Why choose us?
As your partner in investing and as your neighbours in the community, we're committed to creating a better, more sustainable and resilient future. Our co-operative identity anchors our decision-making to who we are as an organization and pushes us to go further to create positive change. We exist to strengthen the financial security of our clients and their communities.
What our clients are saying
Témoignages de notre clientèle
Great service, great people. This office goes above and beyond!
-Boris
Blain King and his staff are a company with a heart for the community that they serve. They are quick to provide comprehensive, friendly, thorough service in a personable way.
-Cindy
The friendliest and best service I've ever gotten from an insurance company. I have all my insurance through them and will never switch. Absolutely the best. Keep up the awesome work.
-Souraya
Get an insurance quote
Obtenez une soumission d'assurance
Co-operators in your community
Coldest Night of the Year
Our team at Blain King Insurance & Financial Services Inc proudly participated in the Coldest Night of the Year! On February 25th, together with thousands of Canadians across the country, we walked and fundraised to support and serve people and families experiencing homelessness, hurt and hunger in our community. We raised $1,000 as a team for Souls Harbour Rescue Mission, contributing to CNOY's total of $59,277 raised for the Bayer's Lake area!
The HELM Center
In January 2021, Blain and Ian went to The HELM Center in Glen Haven to hear how they're preparing to open as a centre for recovering addicts, and to tour their wonderful facility. We were excited to present them with a cheque for $3,000 to make a difference in our community. We want to encourage you to support them. Thank you, HELM Center!
2016 Souls Harbour Rescue Mission Ride for Refuge
The office of Blain King Insurance & Financial Services was pleased to participate in and sponsor the 2016 Ride for Refuge put on by Souls Harbour Rescue Mission. The family-friendly cycling and walking fundraiser supports charities who provide refuge and hope for Canadians who are displaced, exploited, persecuted or abused. Thank you, Souls Harbour, for all that you do for our city!
Feed Nova Scotia
Blain King Insurance & Financial Services Inc. is proud to support Feed Nova Scotia. We strongly believe in this organization and help by volunteering our time, raising funds and collecting food items. By the end of 2017, we raised $1,023.75. Thank you, Feed Nova Scotia, for all that you do!
Soul's Harbour Mission Mart
We loved partnering with Souls Harbour Mission Mart – the charity thrift store operated by Souls Harbour Rescue Mission. We were pleased to help sort and organize donations and are thankful to have the opportunity to help support this amazing organization.
*Offering insurance products underwritten by Co-operators General Insurance Company and Co-operators Life Insurance Company.
**Offering mutual funds through Co-operators Financial Investment Services.